Canon - Next Generation Wireless FPD's

Durable IPX7 Wireless FPD solutions providing improved workflow and patient care.
The new Canon FPD's incorporate some key design features and innovations intended to improve your workflow and patient care within your organization.
Flexibility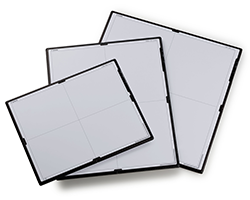 A selection of 3 different sizes providing optimal patient care:
• 43 x 43 cm - CXDI-410CW (Large FOV)
• 35 x 43 cm - CXDI-710CW (General imaging)
• 27 x 35 cm - CXDI-810CW (Ideal for Humidicribs and neonatal imaging)
Lightweight and Durable
Using superlight and strong carbon fibre construction techniques, Canon has achieved significant weight reduction, providing light durable panels.

Patient loads of up to 130kg are supported
Waterproof IPX7
Contact with fluids is inevitable, particularly in emergency and high dependency care. The composite detector design provides IPX7 compliance which means that the detector can withstand up to 30 minutes in water to a depth of 1m without incurring damage.
Contact Us
Freecall Australia: 1800 819 422
Freecall New Zealand: 0800 127 446
Email: This email address is being protected from spambots. You need JavaScript enabled to view it.