Efficacy with High Performance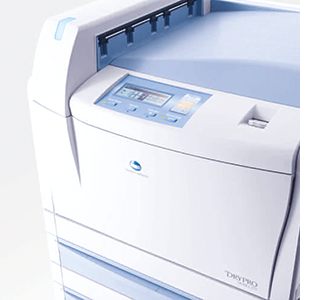 With a first print time of 50 seconds for film this machine is capable of outputting 180 sheets per hour of mixed sizes. It means that 10 sheets of 35 x 43cm film can be printed in 4 minutes.
The unit is compact, being .35 M squared and 1150 mm high and can support 3 trays with a sorter for busy departments.In the printing operation a 30% reduction in electricity consumption is achieved when compared to earlier model printers.

Konica Minolta Drypro 873 Brochure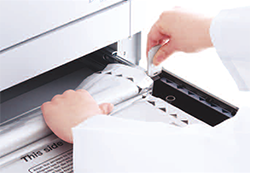 The system employs visual alerts for film availability and print status making it easy to monitor from a distance. The system is tuned to low tonal frequencies for a quieter operating environment.

When new film is loaded, the system it uses an in built density control function to automatically measure and control the finishing density, it then automatically calibrates the system to maintain constant density throughout different film batches.

Image interpolation or pixel replication has been enhanced as well as an intensity conversion processing.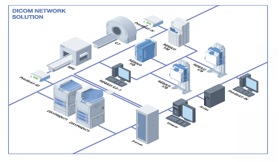 With the DRYPRO 873, the developing process has been redesigned for fast mass volume processing.

The film is pre-heated from the early stage of film transfer. In addition to reducing unstable temperature areas, fast mass volume processing and density stability have been achieved by dividing the heat developing part into five parts and closely controlling the process. Ten sheets of 14"x17"-size film can be printed within four minutes.

The 873 Laser Imager is designed for maximum throughput as the backbone of any DICOM Departmental image print network.