Shimadzu Corporation, in collaboration with and Konica Minolta, Inc. have developed Dynamic Digital Radiology (DDR) incorporating Konica Minolta's new advanced image processing and Shimadzu's RADspeed Pro style edition radiographic imaging system. DDR is an enhanced X-ray technology that provides a series of low dose individual digital images acquired at high speed. The resulting cine loop enables clinicians to observe the dynamic motion of anatomical structures over time, enhancing diagnostic capabilities. The motion series can be analysed and quantified with the DDR advanced image processing capability.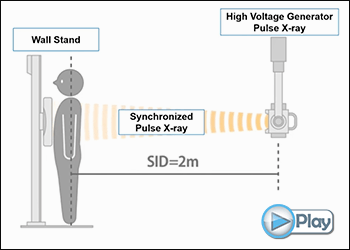 DDR provides endless applications including — thoracic and orthopedic — chest, diaphragm, lung, spine, shoulder, wrist, ankle & knee. DDR is for initial assessment, before surgery and follow-up.

Observe and compare dynamic changes over time and quantify clinical information to improve the quality and specificity of diagnosis.

• DDR combines Anatomical Info and Functional Info into a first-line test
• Available in a general X-ray room, with Shimadzu RADspeed Pro style edition
• Exposure time is relatively short compared to CT
• No contrast agent is required
• Dose is equivalent to an AP/ lateral chest X-ray (1.9mGy)
• le thoracic region can be observed in one exposure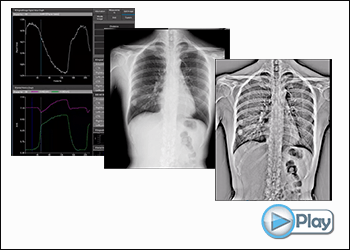 Time-resolved quantitative evaluation of the diaphragmatic motion during tidal breathing in a standing position is evaluated in the following way:
• Image Processing Technology - to improve discrimination ability
• Image Measurement Technology - to quantify dynamic change
• Image Analysis Technology - to visualize pulmonary function
Multiple image processing and quantification help diagnosis such as:
• Determine causes of dyspnea
• Bronchiectasis and pulmonary hypertension
• Differentiate restrictive versus obstructive lung disease
• Identifying pulmonary dysfunction location
• DDR for Orthopaedics: Detecting musculoskeletal injury by movement