Solve the challenge of movement artefacts with Planmeca CALMtm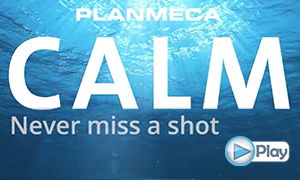 Planmeca is the first company in the maxillofacial imaging industry to introduce motion artefact correction, Planmeca CALMtm (Correction Algorithm for Latent Movement), to end users. With this new algorithm, patient movement during CBCT acquisition is no longer a reason for retakes. Planmeca CALMtm will not only save time for clinicians but also guard patients from unnecessary exposures.

Watch the video.


The algorithm works with all volume and voxel sizes. Using it will add only 30-60 seconds to the overall reconstruction time. Planmeca CALMtm can be applied after an image has been captured, but it can also be selected preventively before exposures. This ensures that volumes are automatically corrected before they are accessed in the Planmeca Romexis® software.
Upgrade to CALMtm
Planmeca CALMtm is now available as an update for all Planmeca ProMax® 3D units.

Contact us for details about upgrading!
Meet the Planmeca ProMax® 3D family


Planmeca ProMax® 3D is a product family consisting of exceptional all-in-one units. With three different types of three-dimensional imaging - as well as panoramic, extraoral bitewing and cephalometric imaging - these intelligent products can meet all your maxillofacial imaging needs.

Key features
Advanced technology:
• Ideal resolutions and patient dose levels that always comply with the ALARA (As Low As Reasonably Achievable) principle
• Optimal volume size and location for every clinical need
• Special imaging protocols for dental and ENT applications
Effortless use:
• Effortless patient positioning and unmatched comfort
• True all-in-one X-ray units not only for 3D imaging, but 2D panoramic and cephalometric imaging as well
• Easy to use for a smooth workflow
• Planmeca Romexis® software
• Mac OS and Windows support